Events
​Union Women in the Trades for Jennifer Carroll Foy
The BIG Event is this Saturday, May 8th at 10 am. We will be rallying at our Manassas Hall, 7016 Infantry Ridge Road, Manassas, VA 20109. Join Union Women in the Trades as they rally for the champion of working families, Jennifer Carroll Foy. This is an event for all. Local 26 members are encouraged to come out and support the women that lead Local 26 and the labor movement, as they support Jennifer Carroll Foy. A kid-friendly event that starts with coffee and donuts, then a rally with Jennifer and the women of labor, and concludes with door knocking and or a "no-touch" literature drop. Let's flood the parking lot with support for the women that lead our Local and hopefully, the woman that will lead the Commonwealth!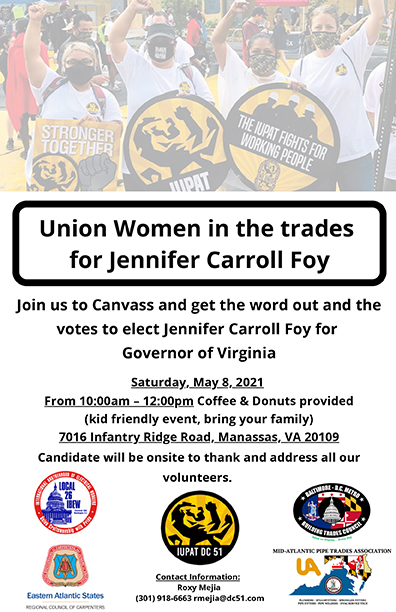 Local 26 Webinar
IBEW Local 26 will be hosting a webinar on Wednesday, May 12, 2021 at 5:00 pm to discuss the Inside and Residential agreements and fully explain the ratification process utilizing ACCU-BALLOT. Members will be able to ask explanatory questions regarding the proposals through the Questions & Answers (Q&A) feature. Please make a plan to attend. The link to the webinar will be posted on the Local 26 website homepage on Wednesday May 12, 2021 at 4:30 pm.
Workers Memorial Day
| | |
| --- | --- |
| | Workers Memorial Day is a day of remembrance and action for workers killed, disabled, injured, or made unwell by their work on the jobsite. This day of remembrance takes place each year on April 28th, the day that the United States Occupational Safety and Health Act (OSHA) went into effect in 1970. We, as the Building Trades in the DMV, hope to make this an annual event to recognize the dignity of human labor. |
DAD's Day Golf Outing - Canceled for 2021
MD and VA Picnics - Canceled for 2021
IBEW Midwest Softball Tournament - Canceled for 2021
JATC Events
The Graduation Ceremony has been canceled for 2021
Community Service
Check out the Local's philanthropic efforts here.
125th Anniversary Celebration